In my last post, I mentioned that I was trying Stitch Fix. I didn't have much luck with my first style and sent everything back but I then used it as an opportunity to try my own 5 styles (as if I was a stylist) but it turned out to be 9. So without further ado, I thought I would show you what I am wearing this summer/fall.  No affiliate links just ideas for shopping.
Bottoms:
I bought two pairs of NYDJ that were on sale. It was the first time that I had purchased these jeans and I did so after hearing a lot of good things about them from the What Would Virginia Wolf Do? group that I am on via Facebook. So far they are excellent. I bought one size down (as they suggested) and they fit my very curvy, 40 year old frame very well. As you will see, I am not afraid to buy in multiples. My other go to jeans are from French Connection and are their rebound skinny. I also love them and buy usually two new pairs when they go on sale (which isn't very often).
Tops:
Tops are the big thing that I splurged on this time around. I bought 4 tops and the tops range in price and material from an Eileen Fisher Flutter Cuff Silk Shirt to Organic Cotton Uneven Yarn French Sleeve T-Shirts from Muji. The Muji t-shirts were just over £12. The Eileen Fisher shirt was considerably more expensive, around £100. It is the first time I have purchased something from her and I expect it will last a long time. I also got an inexpensive ONLY blouse for work (£17.95).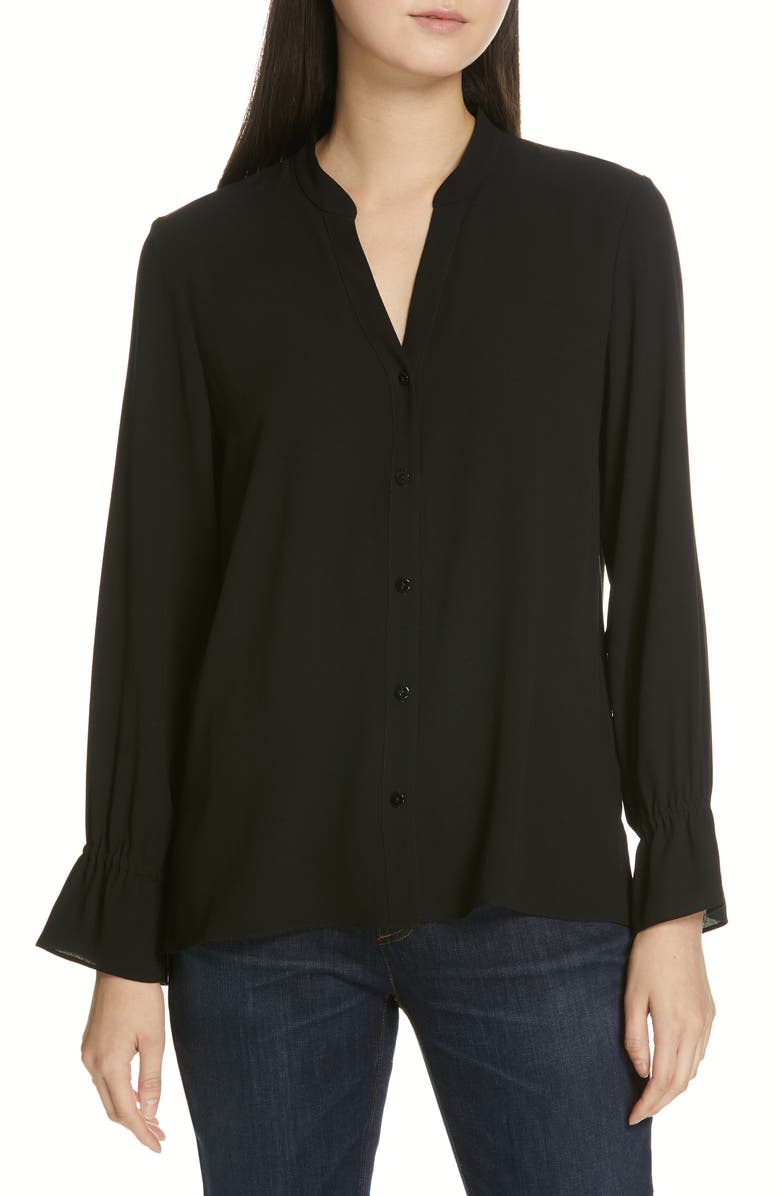 Blazers and Dresses:
Blazers are a (casual) girls best friend. But I kinda hate suit jackets so I am constantly on the look out for new boyish blazers that still have style (£56.00). The hope is that it will work with all the blouses above and also with this gorgeous dress that I picked up from All Saints (£82.40). 
I have a number of work related events this fall that I have to dress up for. I am hoping that these items will do the tri a grey cardigan, leggings, and boots.  
Shoes: The last purchase I made was new shoes. I'm going for something fun, which will hopefully also be comfortable (£63.74). I've mostly been wearing trainers and sometimes, I need something different. I'm also starting to think that I may have to invest in insoles. 
Total Capsule Budget (10 items): £517.99
2 Jeans 172
2 t-shirts 25.90
Blouse 17.95
Silk blouse 100
Blazer 56.00
Dress 82.40
Shoes: 63.74