Are you being paid less than your male colleagues? I am. Does this matter for your financial well being? Absolutely.
Last week something happened to me that is both amazing given our current financially tight situation and the home buying process but also annoying. In the place that I used to work, it turns out that my employer has lost a court case against them for paying "new entries" a lower salary. My previous contract was a 6 year term contract, but those 6 years were broken up into two, 3 year contracts. At the end of the first 3 years, you had a 3 year review and then, if you passed that three year review, they would give you a small bonus, say about 500 pounds a month additional (pretax). The idea was to give you a small incentive for sticking around. Anyways, this penalty (not getting the 500 for the first three years) was declared unconstitutional. So now, my employer has to pay me back.
Here is where it gets tricky. I, like many people, used my previous salary to negotiate my current salary. This was a mistake, I now realize. Since then, I have done some research and found out that a male coworker of mine that started the same time as me also negotiated his salary and makes about 5000 pounds more a year than me. I have worked for my current employer for 2.5 years so thats about 12,5000 pounds of lost income.
According to the ONS, "the gender pay gap fell from 2017 to 2018, to stand at 8.6% among full-time employees. The gap among all employees is higher (17.9%), driven by more women working in part-time jobs, which are lower paid (an average hourly rate is £9.36 compared with £14.31, excluding overtime, for full-time jobs)." However, recent survey evidence suggests that it's not that full time women compare themselves with part time female workers but rather both men and women reward men for their "maleness" in their salaries.
Figure 2: Gender pay gap for median gross hourly earnings (excluding overtime) by age group, UK, April 2018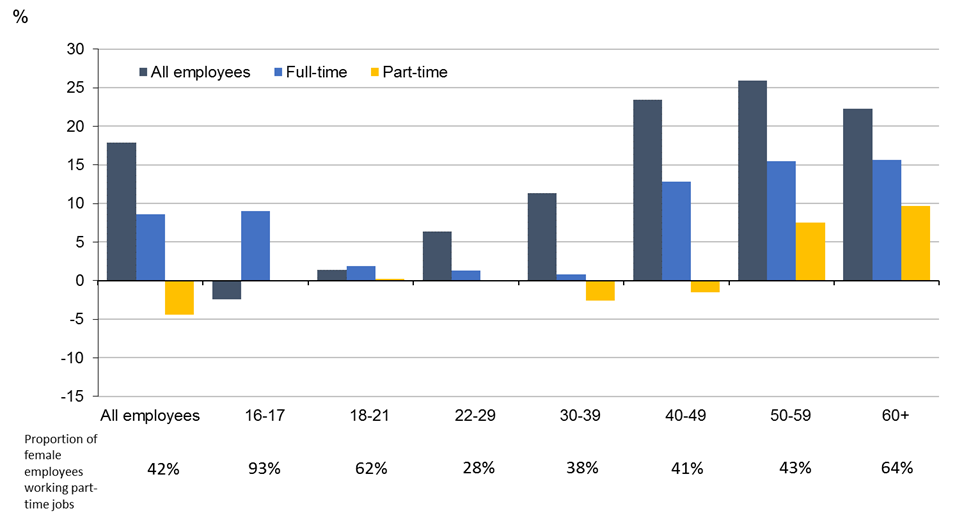 Source: Annual Survey of Hours and Earnings (ASHE) – Office for National Statistics
According to the above court case, I also made about 5,000 pounds a year less than I should have in my previous job, probably a little bit more, but let us use this number because it makes the example easy. I worked in that job for also about 2.5 years and used that salary (before the court case) to negotiate my present salary.
That means that I have had a cumulative loss of income of about 25,000 pounds (pre tax) over the last 5 years. Even if I take off half of that for tax, pensions, health insurance, and inflation, thats still 12,500 pounds missing. I'm clearly not alone.
So, just for fun, I looked at the Financial Times Pay Gap calculator to see whether or not my experiences were normal or not and this is what I found out:
Your salary puts you in the top 30% of full-time female earners in your age group and sector. A man in the top 30% of male full-time earners in his 40s in Science, engineering or technology professional roles, earns 11.7% more on average.
---
£5,568 more every year. Or £3,230 more after tax.
So I am £27,840.00 poorer then I could / should have been. How much richer or poorer are you because of the pay gap?